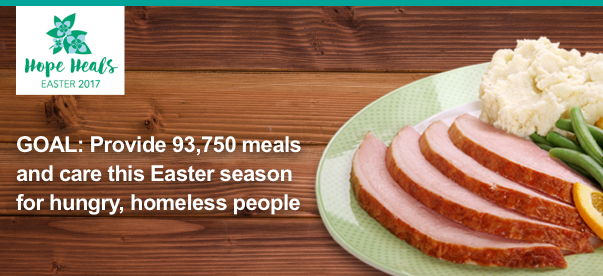 Renew hope for hungry, homeless people this Easter.
As we prepare for the 93,750 meals we expect to serve this Easter season, you can help make it possible. Just $2.03 is all it takes to give an Easter meal and care to a hungry, homeless and hurting person struggling to survive on Skid Row. Please give now to provide:

Please give today and provide:
· Hot meals and care
· Safe shelter
· Life-changing programs, and more
***********************************************
Would you like to donate via PayPal instead?




***********************************************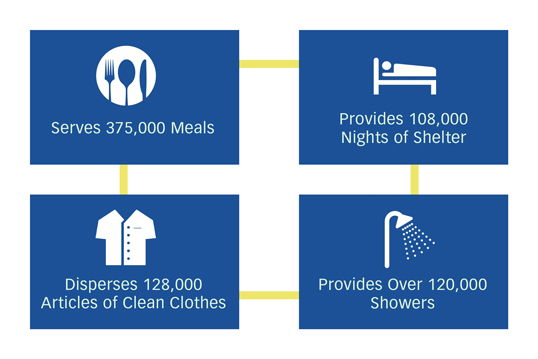 About the Los Angeles Mission
Founded in 1936, the Mission is a 501(c)(3) non-profit organization dedicated to the plight of the homeless and is located in the heart of the Skid Row section of downtown Los Angeles.
The generous giving of individuals, corporations, churches and foundations enables the Los Angeles Mission to rely completely on tax deductible contributions for all program expenses.
Donate to Los Angeles Mission
Is my donation and credit card info secure?
Yes, the security and confidentiality of your information is our highest priority. We will not sell, trade or share your personal information with anyone else, nor send donor mailings on behalf of other organizations, and we will only share personal information if you have given us specific permission to do so.
Is my donation tax deductible?
Yes, we are a 501(c)(3) public charity recognized by the IRS. Your donation is tax-deductible to the fullest extent permissible by law.
How do I know that my donation was made successfully?
You will receive an emailed receipt immediately after your donation is submitted and your credit card is processed. Your donation will also show up on your bank or card statement within 1-3 business days.
Do I get a receipt?
Yes, a receipt is sent to your email inbox once your donation is processed. Please be sure to keep a copy of your receipt for tax purposes. If you select a recurring donation, you will be sent an individual receipt each period when your donation is processed.
Is my donation private?
We will not share or sell a donor's personal information with anyone else, nor send donor mailings on behalf of other organizations.