PROVIDE A SUMMER OF HOPE TODAY!
As a Go Country listener, thank you for bringing hope and healing this summer to those in need.

Contrary to what many think, being on the streets during the summer does not make being homeless any easier. During the summer dehydration threatens lives, and bacteria is rampant in overheated dumpsters where many who are hungry attempt to find discarded meals. In fact, this summer the number of people seeking meals and care is higher than expected when donations to the Los Angeles Mission plummet.

It's just $2.03 to provide a meal and care, and every meal matters. A one-time gift of $175 will provide one meal and care a day from today through August. If it's easier, you can also make three monthly gifts of $58 for June, July and August. Or you can opt in with the below options:

· $20 a month for 3 months will provide 30 meals & care
· $30 a month for 3 months will provide 44 meals & care
· $40 a month for 3 months will provide 59 meals & care
***********************************************
Would you like to donate via PayPal instead?




***********************************************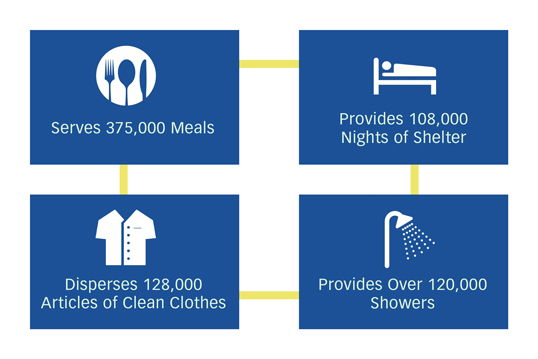 About the Los Angeles Mission
Founded in 1936, the Mission is a 501(c)(3) non-profit organization dedicated to the plight of the homeless and is located in the heart of the Skid Row section of downtown Los Angeles.
The generous giving of individuals, corporations, churches and foundations enables the Los Angeles Mission to rely completely on tax deductible contributions for all program expenses.
DONATE
| | | |
| --- | --- | --- |
| | | |
| This Campaign | 29 | 30100800% |
| has ended. | Believers | Funded |
This campaign has ended.